Manassas Industrial School Home
CONTESTED MEMORY
In March 1998 the Manassas Journal Messenger announced that a new group of letters had been found spotlighting the history of the Manassas Industrial School. These letters, more than one thousand in number, had been purchased by an individual collector who plans to use them as the nucleus of a genealogical history of a former principle of the Manassas Industrial School and his family.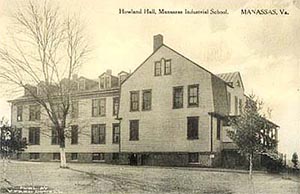 Howland Hall-Manassas Museum
This work has yet to be completed but the newspaper article is one of many articles about the Manassas Industrial School. This school has been the source of great community pride and it is perceived as a lasting monument to the racial cooperation and harmony in Manassas. There is a sense of romanticism among many of the local residents regarding the school. There have been many clashes about the methods that should be used to preserve the memory of the school and Jennie Dean herself. Despite their differences in opinion, both sides tend to look at the school as a monument to the achievements of whites and blacks working together for a common goal.
MONUMENT TO DISHARMONY 1894-1914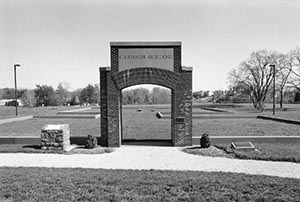 Manassas Industrial School
Memorial Virginia
Department of Historic Resources
This site and my work attempts to tell a more complicated story about the Manassas Industrial School. This is a story of conflict, over race and class but perhaps more fundamentally it is also a story about different ideologies. The changing from the Victorian era to the era of Modernism. The original research was completed in 1998 as a requirement for a graduate research seminar with Professor Jeffrey Stewart at George Mason University. I return to this project for the purpose of completing a course on Creating Digital History at Mason. This site represents a small slice of this original research. If I were to re-engage with this project again I would still focus on the same core issues but I would spend more time exploring the connections between the local African American community and the various white supporters of the school. I hope that someone will see this site and use it as a starting point for their own research. The school attracted important champions that stretched as high up as the White House.
(Back to top)
NEXT