Jennie Dean (1852-1913)
Undaunted Faith
The most significant person in the founding of the school was Jane Serepta Dean. Dean was born into slavery in western Prince William County, Virginia around 1852. Little is known of Dean' s early life. Her father wanted to be a land owner but he died before the family was able to purchase the farm they worked on near Sudley Springs. Thus it seems that Dean took on a leadership role in the family by the time she was fourteen years old. Dean was a deeply religious woman.

Jennie Dean
Manassas Museum When she was sixteen years old she joined the Nineteenth Street Baptist Church in Washington D.C. At first Dean concentrated on raising money and gathering support from community churches. She has been identified with aiding in the establishment of at least four churches in Northern Virginia and perhaps some smaller missions as well.
Curing Social Ills
Dean held Sunday school sessions, which also became an avenue for her to meet younger members of the community. She began to hold training sessions on Saturdays for those who were interested in learning how to cook and sew. According to the account of Stephen J. Lewis D.D.S. , a graduate of the MIS and friend to Dean,"She was much influenced by these industrial classes and turned her thoughts to a more practical application...(for) these young folk..."1 Dean was a matriarchal figure to her community and she worried for the large number of African-Americans who were migrating to the urban centers of the country. She realized the evils which resulted from the exodus of hundreds of her Sunday school scholars to the city slums and alleys but she also realized the hopelessness of their fate when they remained at home. Dean saw the school as a remedy for these social ills.
Victorian Ideals
Dean believed that the migration to the cities was causing an entire generation to become tied to the low paying and poor working conditions of factory life in the turn of the century period. In addition, young people were being exposed to the more distasteful elements of urban life, namely drinking and other social evils that were limitations upon the spiritual growth of the youngsters. If there were a school for these youngsters to go to near their homes these students would not feel compelled by economic concerns to move away into the disorderly environ of the city. Instead, they could become efficient farmers or they could market themselves as skilled laborers and teachers thus avoiding the evils of city life.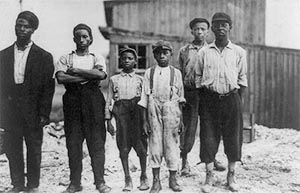 Glass Factory-Library of Congress As a result, we must recognize that the school operated under the auspices of middle class beliefs and morality. In many ways these expectations have ties to the Victorian notions of manners and morality. Its focus was on identifying, cultivating, and directing students to operate within specific manners and virtues that were a construction of the spaces that existed within the society itself. Students were being inculcated into the mind of middle class morality through its teachers and from the influence of its benefactors. The school itself was in large part a representation of the elite and middle class values of 1890-1920.
Dean's Legacy
Many students remembered Dean fondly and they left the Manassas Industrial School and became successful. Stephen J. Lewis wrote a book a biography about Dean in 1942 after he became a successful dentist. This is still the main work that describes Dean's life. There is much uncertainty regarding Dean's own literacy. She left few records of her own. One letter is in the Emily Howland collection that appears to be from Dean but upon careful examination it may have been written by her long time supporter and devoted friend Jane E. Thompson. Nevertheless Emily Howland and a host of others supported Dean's vision until she died in 1913.
1Stephen J. Lewis. Undaunted Faith:The Story of Jennie Dean. Catlett, VA: Circuit Press, 1942. Reprint, Manassas VA: Manassas Museum, 1994.