<![if !vml]>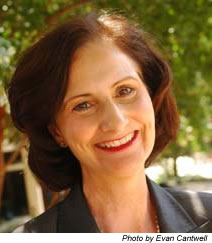 <![endif]>Anastasia Samaras is Professor of Education in the Graduate School of Education, College of Education and Human Development at George Mason University, Virginia. Anastasia has presented and published widely nationally and abroad. She served as co-editor of the proceedings of the Fourth International Conference on Self-Study of Teacher Education Practices and has authored and edited numerous books including the first textbook on self-study research.
Her teaching career began in 1972 as a Social Studies teacher in a newly integrated junior high school. Anastasia's life-long passion for teaching also includes three decades of teaching in high schools, preschools, colleges, and universities. She currently holds advanced professional certificates in Social Studies, U.S. History, Early Childhood Education, and Elementary-Middle School Principal-Supervisor.
Her experiences as teacher and parent of three children shaped her advanced studies at the University of Maryland where she earned a Masters from the Institute of Child Study and a Ph.D. in Curriculum and Instruction with specializations in Early Childhood and Teacher Education. Her former role as director of teacher education at The Catholic University of America was the context of her 10-year Vygotskian-based teaching and research and her book, Self-Study for Teacher Educators: Crafting a Pedagogy for Educational Change (2002), Peter Lang. Anastasia's interest in the self-study of teaching and teacher education practices towards professional development, including her own, continue to center much of her research.
Her research in socio-cultural practices has led her to fascinating experiences in interdisciplinary teaching as well as appointments with federal agencies, the US Department of State, Head Start, and numerous universities.