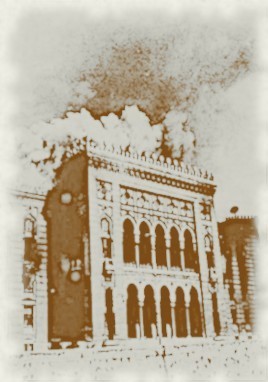 Librarian Sentiment and the Destruction in Sarajevo
Mark Edwin Peterson

Bibliography
Al-Daihani, Sultan M., and Suha A. AlAwadhi. 2015. "Exploring Academic Libraries' Use of Twitter: A Content Analysis." Electronic Library 33 (6): 1002–15. link.
Bakarŝić, Kemal. 2002. "Back Where We Started: Bosnia's Digital Archives." Slavic & East European Information Resources 3 (2–3): 55–79. link.
Bennington, Geoffrey. 2014. "Derrida's Archive." Theory, Culture & Society 31 (7–8): 111–19. link.
Birkner, Thomas, and André Donk. 2020. "Collective Memory and Social Media: Fostering a New Historical Consciousness in the Digital Age?" Memory Studies 13 (4): 367–83. link.
Cushing, Amber L. 2018. "'We've No Problem Inheriting That Knowledge on to Other People': Exploring the Characteristics of Motivation for Attending a Participatory Archives Event." Library & Information Science Research 40 (2): 135–43. link.
Foner, Eric. 2002. Who Owns History?: Rethinking the Past in a Changing World. 1st ed. New York: Hill and Wang.
Fontana, Giuditta. 2013. "War by Other Means: Cultural Policy and the Politics of Corporate Consociation in Bosnia and Herzegovina." Nationalism & Ethnic Politics 19 (4): 447–66. link.
Gerhardt, Christina. 2012. "On Natural History: Concepts of History in Adorno and Kracauer." In Culture in the Anteroom: The Legacies of Siegfried Kracauer, edited by Johannes von Moltke and Gerd Gemünden. Ann Arbor: University of Michigan Press. link.
Hartmann, Kristen M. 2016. "Fragmentation and Forgetting: Sarajevo's Vijećnica." International Journal of Heritage Studies 22 (4): 312–24. link.

Holly, Michael Ann. 2013. The Melancholy Art. Essays in the Arts. Princeton: University Press. link.
James, Deborah. 2013. "Social Networking Sarajevo Roses: Digital Representations of Postconflict Civil Life in (the Former) Yugoslavia." Journal of Communication 63 (5): 975–92. link.
Kossiakoff, Megan. 2004. "The Art of War: The Protection of Cultural Property during the 'Siege' of Sarajevo." DePaul Journal of Art, Technology & Intellectual Property Law 14 (1 Special Section: Art and War): 109–69. link
Kracauer, Siegfried. 1969. History: The Last Things Before the Last. New York: Oxford University Press. link
Kriesberg, Adam. 2014. "Increasing Access in 140 Characters or Less: Or, What Are Archival Institutions Doing on Twitter?" The American Archivist 77 (2): 534–57. link.
Manca, Stefania. 2021. "Digital Memory in the Post-Witness Era: How Holocaust Museums Use Social Media as New Memory Ecologies." Information 12 (1): 31-. link.
Maniou, Theodora A. 2021. "Semantic Analysis of Cultural Heritage News Propagation in Social Media: Assessing the Role of Media and Journalists in the Era of Big Data." Sustainability 13 (1): 341 (1-14). link.
Moustafa, Laila Hussein. 2013. "Disaster Management Plans in Middle East Libraries and Archives in Time of War: Case Studies of Iraq and Egypt." Library & Archival Security 26 (1–2): 15–35. link.
Ovenden, Richard. 2020. Burning the Books. Cambridge: Harvard University Press.
Owens, Brian M. 2003. "The Safeguarding of Memory: The Divine Function of the Librarian and Archivist." Library & Archival Security 18 (1): 9–41. link.
Piper, Alana. 2020. "Digital Crowdsourcing and Public Understandings of the Past: Citizen Historians Meet Criminal Characters." History Australia : 525-541. link.
Prins, Annelot. 2020. "Live-Archiving the Crisis: Instagram, Cultural Studies and Times of Collapse." European Journal of Cultural Studies 23 (6): 1046–53. link.
Rodowick, D N. 1987. "The Last Things before the Last: Kracauer and History." New German Critique 41: 109–39. link.
Roeschley, Ana, and Jeonghyun Kim. 2019. "'Something That Feels like a Community': The Role of Personal Stories in Building Community-Based Participatory Archives." Archival Science 19: 27-49. link.
Rothberg, Michael. 2009. Multidirectional Memory: Remembering the Holocaust in the Age of Decolonization. Cultural Memory in the Present. Stanford, CA: Stanford. link.
Sexton, Anna, and Dolly Sen. 2018. "More Voice, Less Ventriloquism- Exploring the Relational Dynamics in a Participatory Archive of Mental Health Recovery." International Journal of Heritage Studies: Themed Section: Inclusive Archives and Recordkeeping: Towards a Critical Manifesto 24 (8): 874–88. link.
Steedman, Carolyn. 2001. Dust. Manchester University Press.
Suchak, Aakash M. 2018. "The Place of Consignation, or Memory and Writing in Derrida's Archive." Journal of Comparative Literature & Aesthetics 41 (1/2), (2018): 55-69, 235. link.
Williams, Lyneise. 2019. "What Computational Archival Science Can Learn from Art History and Material Culture Studies." In 2019 IEEE International Conference on Big Data, 3153–55. link.
Winterhager, Helena. 2019. "Social Media in der Öffentlichkeitsarbeit großer Bibliotheken im internationalen Vergleich: Strategien – Umsetzung – Best Practice." Master's Thesis. Humboldt University. link.
Zimmer, Michael, and John Proferes. 2014. "A Topology of Twitter Research: Disciplines, Methods, and Ethics." Aslib Journal of Information Management 66 (3): 250–61. link.