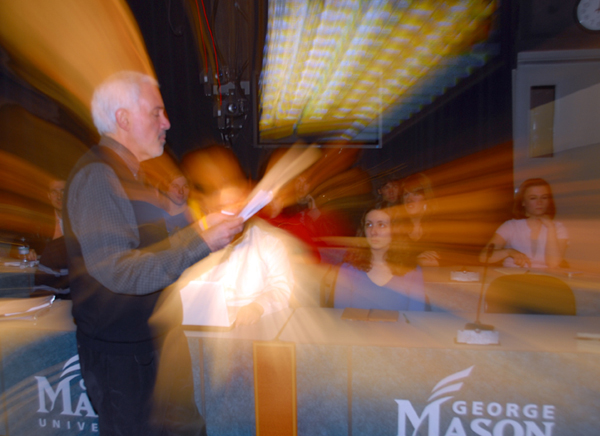 Photo by Isaac Pacheco


Defining Journalism today


Jennifer Carroll Interview from Web Communications on Vimeo.
Jennifer is Vice President of New Media for Gannett.
She visited George Mason University for Communication Day on Feb. 7, 2008.

For your information
I teach two sections of Comm203/Introduction to Journalism and Comm374/Political Journalism during fall semester. Students interested in either of these courses can review the syllabi and others from the pull-down menu at the top of this page under "GMU Courses" or by accessing Townhall, GMU's conferencing and collaboration software program.
During the spring semester of 2008, I will teach Comm203/Introduction to Journalism, Comm361/Online Journalism, and Comm371-001/Sports Writing & Reporting.
During the Summer A term, I teach Comm303/Writing Across Media.
This past summer, I led a journalism program (Comm307/Field Study in Communication) to Sligo, Dublin and Belfast in Ireland. I plan to continue the program during the summer of 2009.

My office is located in 219-B Thompson Hall. Office hours during the fall semester are 9:30 to 11:30 a.m. Monday and Wednesday and 9:30 a.m. to 1 p.m. on Thursday. Occasional, I work and meet students in 311 Johnson Center. Updates and changes to my office hours and location are posted on my office door.
What's happening in the GMU Journalism program

Mitch Albom

, an old friend from my days as sports editor of the Lansing State Journal, spoke at GMU's Fall for the Book '07 celebration in September. Don't miss

Fall for the Book '08

!

This isn't the George Mason campus. It's the lovely town of

Sligo

on the northwest coast of Ireland, where I was host to a

Global Education

Program July 6-20. Interested in the summer of 2009? See me or

Sarah Mournighan

in the CGE office.

The George Mason

statue

by the

Johnson Center

is a popular gathering spot on the GMU campus. Although I got to pose this time, I often take pictures of my guests here.
George Mason students join C-SPAN Political Editor Steve Scully (on screen) in two-way live collaborative classes as part of my Political Journalism and Online Journalism classes in the GMU-TV video studio. Students from the University of Denver and Pace University also participate.
George Mason Journalism students, including members of Student Media, engage in conversation with

Rob Curley

, Vice President/New Media for Washington Post-Newsweek Interactive, in a chat session March 4. Students on the right with Rob are (from left)

Isaac Pacheco

,

Whitney Rhodes

(director of

Connect Mason

) and

Emmy Crawford

, one of three Mason-WPNI interns.

(Photo on the right by Isaac Pacheco; photo on the left by Steve Klein)
Also

This fall, students from other classes, faculty and staff are invited to attend guest lectures in the 455 Innovation Hall GMU-TV video studio classroom as space allows. Guests this semester include historian Doris Kearns Goodwin, Sen. Jim Webb (D-Va.), former Washington Post executive editor Ben Bradlee, and political commentators Pat Buchanan and Tucker Carlson.

In the United Arab Emirates with Magda

Abu-Fadil, director of the Institute for Professional Journalists at the Lebanese American University (Beirut)





Updated 10/16/08