DOW JONES REPRINTS



This copy is for your personal, non-commercial use only. To order presentation-ready copies for distribution to your colleagues, clients or customers, use the Order Reprints tool at the bottom of any article or visit:
www.djreprints.com
.
•
See a sample reprint in PDF format
.
•
Order a reprint of this article now
.
Prediction Traders Put Their Money on Obama
By JUNE KRONHOLZ


February 13, 2008; Page A8
Barack Obama was trading at $7.12 a share, down one cent, in prediction markets yesterday, but still well ahead of Hillary Clinton, who was down a penny at $2.91.
Could the markets know more about politics than the polls?
Opinion polls show a tight race between the two candidates for the Democratic nomination. But in the prediction markets, where investors stake their money on the candidate they believe will win -- and face a loss if they are wrong -- Sen. Obama is far ahead. On the Iowa Electronic Markets, operated by the University of Iowa, Sen. Obama pulled ahead of Sen. Clinton in trading last week after Super Tuesday.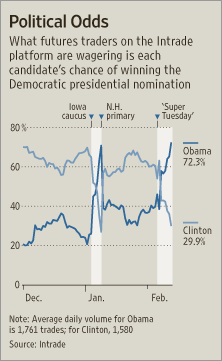 Meanwhile, on Intrade.com, which offers online trades in such diverse markets as Academy Awards and chances the U.S. will capture Osama bin Laden, Sen. Obama's recent wins have pushed him to a commanding lead.
Like bets on the Super Bowl, the odds set by the elections markets "reflect the wisdom of crowds," says University of Pennsylvania business professor Justin Wolfers, who studies predictive markets and also writes about them for the online edition of The Wall Street Journal. If the odds are wrong, investors will bet against them, reap a profit and cause a market correction.
Intrade's prices suggest that traders believe Sen. Obama has a 71% chance of capturing the nomination, compared with a 29% chance for Sen. Clinton
U.S. bookmakers have been taking bets on presidential campaigns since at least 1880, when newspapers reported the odds. The University of Iowa formalized the market in 1988 as an educational exercise. But political trading took off when Intrade, a Dublin market maker, began trading on the 2004 U.S. presidential race.
Intrade offered 60,000 different markets last year, but the "vast majority" of its 73,000 account holders around the world trade in U.S. politics, says John Delaney, Intrade's chief executive.
Since the election season began, investors on Intrade have risked $4.6 million in trades on Sen. Clinton and $3.4 million on Sen. Obama. Intrade has a partnership with The Wall Street Journal to provide a political futures market on WSJ.com that lets users trade contracts tied to various outcomes in the presidential race using play money.
Among Republicans, Arizona Sen. John McCain was trading at $9.45 yesterday, which means that bettors believe he has a 94% chance of winning the nomination. And former Arkansas Gov. Mike Huckabee was trading at $2 on the vice-presidential market, suggesting he has a 20% chance of becoming Sen. McCain's running mate.
Robin Hanson, an economics professor at Virginia's George Mason University, says the predictions markets work much as other markets do, accumulating the best information of a self-selected group of people who are willing to bet money they are right. That differs from opinion polls, he adds, where people have no stake in the outcome and no incentive to get it right. "Markets give incentives to think carefully."
That incentive means political-prediction markets have been accurate in the past. Intrade says it correctly called the 2004 presidential election in 49 states -- it got only Alaska wrong. And Iowa Electronic Markets says that it has been more accurate than 75% of almost a thousand political opinion polls over the past 16 years.
For now, the markets predict a runaway victory for Sen. Obama in the Democratic primaries and a comfortable win over Republican Sen. John McCain in November. Sen. Obama's presidential stock traded at $4.89 yesterday, Sen. McCain's at $3.28.
Sen. Obama's Intrade breakthrough came Feb. 7, two days after last week's Super Tuesday primaries, when his price jumped to $5.70 from $3.70 overnight. Sen. Clinton scored big on Super Tuesday, but not as big as traders expected: She closed 15 percentage points behind Sen. Obama, at $4.30. That means anyone trading on Sen. Clinton would have lost $2 a trade overnight. Anyone trading on Sen. Obama would have won $2 overnight, and $3.40 by yesterday.
Write to June Kronholz at june.kronholz@wsj.com7