Activate e-mail account (or reset your password): https://chimera.gmu.edu/e-mail/prod/index.html

---
Access mail: Type: http://mail.gmu.edu in your browser location "window."


You will see this login "screen":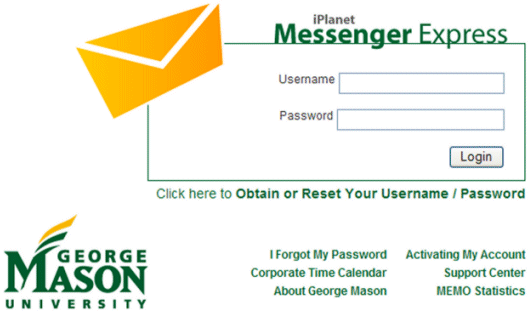 ---
- Enter your mason e-mail account name/ID and password in the appropriate boxes (see image above).

- Click the

button.

---
Clicking on the options (below) in your email account will display these choices:


"Folders" contains a variety of folders including "Mail," "Sent mail," "Trash," and folders you create to store messages in categories. "Inbox" contains current messages. "Sent" contains messages you sent. "Trash" contains messages you deleted but have not yet expunged. "Expunge" permanently rids you of deleted messages. "Drafts" contains messages you want to send later. "Addresses" is where you create your address book. "Options" includes your account summary (and how much space you have left in your mailbox), and other personal settings.
Select

to learn the features of this program.

Select

when finished using e-mail to deactivate your mail. This will prevent someone from using your mason mail without your knowledge if you have not shut down the browser.
---
Compose a Message:
Select Compose:

Select Text / HTML

to compose text or html (hypertext) messages.
Type in the addressee to the right of the Address

icon.
To include an attachment, select Attach

To Spell Check select
To Save Draft and send later, select

To Send select
Other options (at bottom of screen:

- The "Send" button sends your message.
- The "Cancel" options lets you cancel a message you are writing.
- The "Help" menu offers assistance.
---
Inbox Menu:

- high priority mail

- sort options

attachment with email
Select the icon below for each function:
Get Mail

Compose Mail

Search Mail

Delete Mail

Undelete Mail

Expunge"

Get rid of unwanted messages. NOTE: Be sure to periodically expunge messages in your trash folder so your mailbox does not get too full. You will not be able to receive or send mail if this happens.
---
Folder Menu:
Update Mail

- updates the messages in your "Inbox."
Compose

- write a message.
New

- create new folder in "Personal Folders"
Rename

- rename a folder. Click in the circle

to the left of the folder you want to rename and then select the "rename" icon.
Share

- set permissions to share folder contents with others.
Delete

- delete folder
Subscribe

- subscribe to a shared folder
Unsubscribe

- unsubscribe from a folder
- To file your messages in a folder you created, notice the "Move message to folder" text. Click on the arrow in the "Move message...." window." Then choose the appropriate folder you created.
---
Options to set personal preferences and check your quota:
Account summary - E-mail Addresses, Name as it appears on outgoing messages, Quota (the amount of megabytes you have used of your total.)
Personal Information - Preferred Language, Reply-to Address, Signature, vCard ("business card")
Password - change your password to access Messenger Express
Settings - options for deleting and moving mail, emptying folders, sending messages, keeping drafts, replying to and mail forwarding (Scroll down to see each option.) For example, "Mail Forwarding" lets you send all mason e-mail to other accounts of your choosing. Type the alternative email address in the appropriate "box.")
Appearance - color scheme, toolbar options, number of message headers viewed at one time, font....
Vacation message - set up automatic replies for periods when you cannot read your email