Numerical Linear Algebra for Applications in Statistics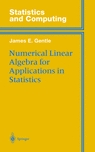 Springer-Verlag, 1998.
This book covers the basics of linear algebra and the numerical methods for performing computations on vectors and matrices.
I have used various parts of this material in several different courses I teach in the computational sciences (including computational statistics).
The outline is
Chapter 1. Computer Storage and Manipulation of Data
Chapter 2. Basic Vector/Matrix Computations
Chapter 3. Solution of Linear Systems
Chapter 4. Computation of Eigenvectors and Eigenvalues and the Singular Value Decomposition
Chapter 5. Software for Numerical Linear Algebra
Chapter 6. Applications in Statistics
Bibliography
Subject Index
A file I intend to maintain for some time is
Errata
I would appreciate any feedback from readers -- corrections, suggestions, or general comments.
James Gentle, jgentle@gmu.edu