George Mason University
CENTER FOR GLOBAL EDUCATION
SPRING BREAK IN MADRID AND BARCELONA
March 12-21, 1999
SYLLABUS (One credit):
The Many Cultural Traditions of Spain: Madrid & Barcelona
SPAN 323: Field Study in Hispanic Culture / ARTH 303: National Traditions: Spain.
---
Rei Berroa
Department of Modern & Cassical Languages
Tel: 993-1241 E-mail: rberroa@gmu.edu Internet: http://mason.gmu.edu/~rberroa/

COURSE DESCRIPTION & OBJECTIVES
The Many Cultural Traditions of Spain: Madrid & Barcelona is a course designed to give students direct, on site contact with the unique past and present cultural life of Spain, with emphasis on Madrid and Barcelona, capitals of Castille and Catalonia, for centuries two of the most influential regions in the country in terms of culture, politics, and economics. Through visits to Valencia [with stops in Tarragona, Sagunto and Peñíscola] in the Mediterranean coast and to Segovia in the central plateau, we will address the presence of Roman, Visigothic, and Arab traditions in the culture, music, and architecture of Spain. Through visits to the Picasso and Contemporary Art Museums in Barcelona and the Prado, the Reina Sofía, and the Thyssen- Bornemisza Museums in Madrid, we will assess the preeminent place occupied by these two cities in the history of the arts during the last 400 years.
Students may get credit for this course in either SPAN 323: Field Study in Hispanic Culture or in ARTH 303: National Traditions: Spain. In order to do so, participants must take active part in all lectures offered during the course, show written evidence of reading texts on Spain and its culture [a bibliography is supplied at the end of this syllabus], keep a diary with their findings on the subject they choose to study while in Spain, and write a 1200-word final paper to be handed in two weeks after their return from Spain.
We will work hard to make this program, for all participants, a most appetizing and unforgettable experience filled with Spanish art, history, culture and social adventure. Both Madrid and Barcelona have their own web site to inform their citizens and visitors about places of interest. In the Schedule of Activities that follows in this cyberpage, I have selected places, sites, or activities that might interest you. This information is provided as a sort of guide to the culture, history, gastronomy, viniculture or nightlife to the cities we will visit.
---
Friday, March 12
6:30 Departure from Washington (Dulles International Airport): SpanAir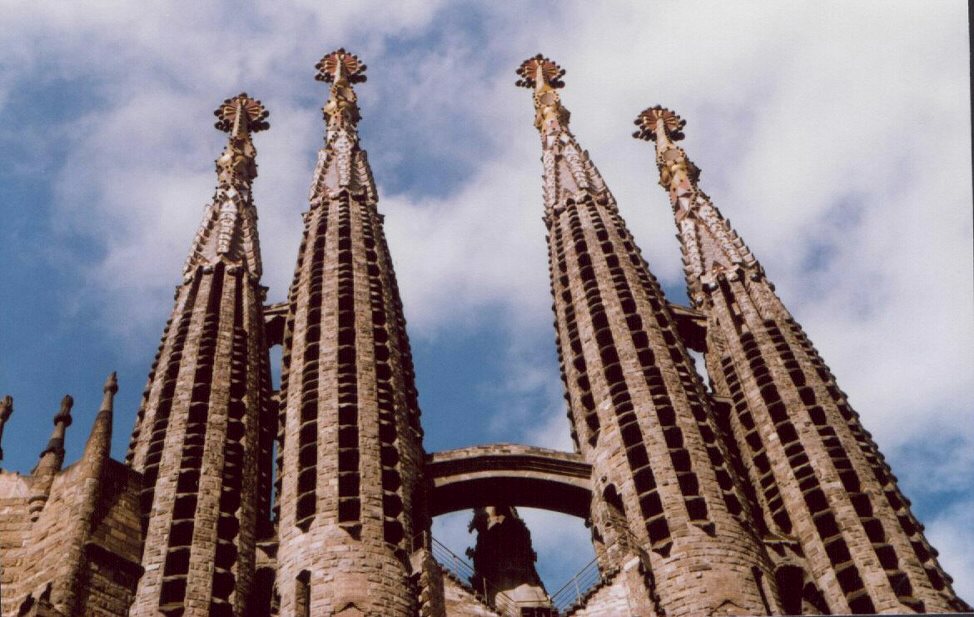 Saturday, March 13
9:50 Arrival in Barcelona and transportation to hotel.
[Expo Hotel located in L'Example Esquerra neighborhood. Click for a map of the metro. ]
12:00 Free time to try the Catalan gastronomy and explore the area around the hotel:
Montjuic, Magic Fountains, Palau Nacional, and Poble Espanyol.
15:00 Walk around the downtown area: Along Las Ramblas and Barrio Gótico. [See a pictorial display of this area at this site. For a map of Barri Gòtic click here. If you want an address location just ask the map]. Click here for all restaurants [even vegetarian].
19:00 The History and Culture of Catalonia:
Lecture-conversation with Roland Pearson, Associate Professor of Translation and Interpretation at the Universitat Autònoma de Barcelona.
21:00 Exploring the night life of Barcelona: A case study in the sociology of leisure and the identity of a city.

Sunday, March 14
10:00 Picasso Museum [Barrio Gótico]
14:00 Panoramic View of Barcelona with visit to Gaudí's Sagrada Familia
20:00 From Opera to Heavy Metal: Leisure Time Activities of the Catalan People:
Lecture-conversation with Neus Carbonell, Professor in Translation and Comparative Literature at the Universitat de Vic.
9:00 Welcome Dinner [At El Tragaluz restaurant]

Monday, March 15
7:30 Departure to Valencia.
8:15 Stop in Tarragona [See old Roman city, the Cathedral and the Roman aqueduct]
10:00 Arrival in Valencia visit to the city.
[Not all information on Valencia's "Cultural Heritage" has been translated into English.]
If we are lucky, we might see some fallas already displayed for the city's biggest party.
14:00 Free time for lunch
15:30 Continue visit to the city and end at the Lladro factory.
16:30 Departure from Valencia.
17:00 Brief stop in Sagunto to see Roman Amphitheater and Circus.
[If time permits, stop in Peñíscola to see the bay and visit the castle of the popes (XIV/ XV centuries).]
20:30 Back in Barcelona.

Tuesday, March 16
Free day in Barcelona
[Click for Barcelona's leisure time activities: bars, museums, restaurants, shopping, etc.]
You could take advantage of this free day to:
see several of the 25 art exhibitions going on in Barcelona this month;
travel to Girona with a stop at Figueres to see the Dalí Museum;
explore Gaudí's genius all over the city;
stay at the Montjuic visiting the Joan Miró Foundation and all surrounding areas;
interested in nature, medieval monasteries and geology? Be in awe! at Montserrat;
or share the findings of two friends from Rome who made this trip in two weeks last year.
19:00 The political issues surrounding Catalonia within the Spanish state, including the issue of the Catalan language: Lecture-conversation with professors Roland Pearson and Neus Carbonell.

Wednesday, March 17
9:00 Departure to Madrid [train]
16:00 Arrival in Madrid and transportation to hotel [Florida Norte].
[Click for a map of the metro or to get information on city restaurants [even veggie].
21:00 Madrid in the History of Spain: Lecture-conversation with Professor Rei Berroa
22:00 Visit the Plaza Mayor and its mesones and explore the nightlife of the City. [Check the map of each zone of Madrid. Our hotel was left out by just a few blocks. ]

Thursday, March 18
9:30-13:30 Panoramic bus visit to Madrid [brief stop at El Prado and the Royal Palace].
13:30 Free time for lunch [more restaurants].
3:30-19:00 Panoramic visit to Madrid by bus with visit to El Retiro Park
20:00 Madrid's Cultural Life: Lecture-conversation with José María Prieto, Professor at the Universidad Complutense de Madrid.
22:00 Explore the night life of Madrid with students from the Universidad Complutense.

Friday, March 19
8:30-20:00 Visit to Segovia
[Roman aqueduct, Romanesque churches, Plaza Mayor, Cathedral and Alcázar: See excellent pictures of these sites or read something about them.
Visit to La Granja [Summer palace of the kings and stay for fountain show].
If time permits, visit to the Royal Glass Factory. There might be a bullfight one of these days in Madrid at Las Ventas. Although we won't be able to go, learn about it here.

Saturday, March 20
Free day in Madrid
[Click for a guide to Madrid's free-time activities, including museums, restaurants, etc...]
Devote the day to visit some of the museums in the city: Prado, Reina Sofía, Thyssen-Bornemisza [you can not leave Madrid without exploring these three museums];
or arrange a trip to Toledo, and/or El Escorial and Valle de los Caídos, close by;
or to any of these sites Avila, Salamanca, Cuenca, Burgos; even Sevilla:
take the AVE or bullet train [see schedule & prices] and be in Sevilla in three hours.
19:00 De Madrid al cielo: Lecture-conversation with Professor José María Prieto.
21:30 Flamenco show (at Arco de Cuchilleros).
11:00 Farewell dinner (at Casa Ciriaco).

Sunday, March 21
10:00 Departure from Madrid.
---
FORMAT AND ASSESSMENT
Three one-page reports due Monday, Wednesday and Friday.
A diary with the student's observations on areas covered by lectures, visits, and field study, should be kept during the eight days of the duration of the course. Diary must be given to the instructor no later than Friday, April 2.
A 1200-word paper due Friday, April 2, at my office (215 E Thompson Hall). The paper must be on a topic approved by theFaculty Director or the student's advisor, double-spaced, typewritten, and should include footnotes, as well as a bibliography. Letter grade.

---
A MINIMAL BIBLIOGRAPHY
If you go to any bookstore in the area, you might find yourself overwhelmed by the amount of travel guides on Spain. You don't need to buy one of them, since I'll prepare a package for you in the web with information about everything we will be doing, but it is much better if you get your own guide. I suggest you consider any one of the following:
1999 Let's Go Spain & Portugal. New York: St. Martin's Press, 1999. ISBN: 0312146663. Originally started by the Harvard University students in 1960, this book has become "the"
budget guide for travelers (first-timers or veteran explorers).
Insight Guide: Spain. Boston: Houghton Mifflin Company, 1999. Published by the APA Insight Guides team (London), this book won the coveted 1995 Vega Inclán award from the Spanish Ministry of Tourism for its accurate and insightful information on Spanish history, life and culture. Superb photos by Joseph Viesti.
Porter, D. et al., Frommer's Spain. New York: McMillan, 1997. ISBN: 0028612027.
Porter, D. et al., Frommer's Barcelona, Madrid & Seville. New York: McMillan, 1997. ISBN: 0028611594.
Fodor's '99: Spain. New York: Fodor Travel Publications, 1999. ISBN: 0679035389.
Published since 1936, this guide has been called by Newsweek "the king of guidebooks." The guide offers a useful and concise overview of Spanish history and culture.
---
SOME OTHER RECOMMENDED READING:
Besides the classical works written by:
Graham Greene: Monsignor Quijote
Ernst Hemingway: For Whom the Bell Tolls [At Fenwick Call # PS3515.E37 F6 1987]
The Sun Also Rises [At Johnson Center Call # PS3515.E37 S8 1954a]
Washington Irving: Tales of the Alhambra [At Fenwick Library Call # PS2052 1991]
André Malraux : Man's Hope [At Fenwick Library Call # PQ2625.A716 E713 1938]
George Orwell: Homage to Catalonia [At Fenwick Library Call #DP269.9 .O7 1952a]
There are non-fictional books that might help you make your experience of Spain much more rewarding. Here are just a few:
Castro, Américo. The Spaniards: An Introduction to Their History. Transl. by Willard King and Selma Margaretten. Berkeley, CA: University of California Press, 1971. In this book the author combines two previous works on the Spanish people and how they have become what they are now. A classic.
Crow, John A. Spain: The Root and the Flower(An Interpretation of Spain and the Spanish People). Berkeley, CA: University of California Press, 1985. This monumental work is, above all, a study of the character of the Spanish people and their civilization.
Fuentes, Carlos. The Buried Mirror: Reflections on Spain and the New World. Public Media Video, 1991. [At Fenwick Media Library Call # DP96 .F84 1991] This collection of five videocassettes (59 mm. each) was written and presented by world-known author Carlos Fuentes on the ocassion of the 500th anniversary of Columbus' voyage. Fuentes looks for his forebears throughout Spain in the mix of people that created Latin America.
Gilmore, David D. Carnival and Culture: Sex, Symbol, and Status in Spain. New Haven: Yale Univ. Press, 1998.
Hooper, John. The Spaniards: A Portrait of the New Spain. New York: Penguin Books, 1987. Study of the social conditions endured by the Spanish people during the 20th century.
Perceval, Michael. The Spaniards: How They Live and Work. New York: Praeger, 1973. Although you will have some time to experience how the Spaniards live and work, it might help you to take a look at this book to get ready for the "labor shock" you might suffer in Spain.
Sieburth, Stephanie A. Inventing High and Low: Literature, Mass Culture, and Uneven Modernity in Spain. Durham, NC: Duke University Press, 1994. This book studies the relationship between the arts, especially literature, and the politics and culture of Spain during the 20th Century. [At Fenwick, Call # PQ6144 .S54 1994]
I HIGHLY RECOMMEND THAT YOU BRING A CONCISE DICTIONARY