Russian Hamburgers, Kotleti
This is a staple of the Russian diet. Kotleti has come to mean chopped-meat patties, but originally meant cutlets. Humble kotleti are beautifully moist inside and crispy on the outside.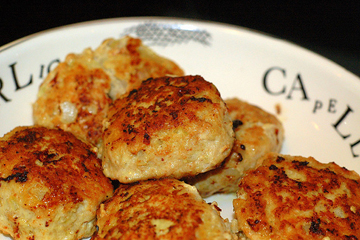 Ingredients
| | |
| --- | --- |
| 2 slices white bread, crusts removed | 2 tablespoons chopped fresh dill |
| 1/4 cup milk | Salt and freshly ground black pepper to taste |
| 1 1/2 pounds ground lean beef (or other ground meat | Unflavored fine, dry bread crumbs for rolling the kotleti |
| 1 medium-size onion, grated | 3 tablespoons vegetable oil, or more as needed |
| 1 clove garlic, minced | 3 tablespoons unsalted butter, or more as needed |
| 1/4 cup crushed or shaved ice or 1/3 cup ice water |   |
| 1 large egg, separated |   |
| 2 tablespoons chopped fresh parsley |   |
Instructions
1. Soak the bread in the milk for 10 minutes. Squeeze the bread to remove excess milk an crumble into a large bowl. Discard the milk.
2. Add the ground meat to the bread along with the onion, garlic, ice, and the egg yolk. Stir to mix well.
3. Beat the egg white until frothy. Carefully add it to the meat mixture along with the fresh herbs and salt and pepper. Knead until thoroughly blended and fluffy.
4. Form the mixture into oval patties about 3 inches long. Place the bread crumbs on a plate. Roll the patties in the crumbs, flattening them lightly as you roll.
5. In a large, heavy skillet, preferably cast iron, heat 3 tablespoons each oil and butter over medium heat until the mixture foams. Add about four patties to the skillet and fry until richly browned on both sides. Reduce the heat to low, and cook, covered, for another 4 to 5 minutes. Prick a patty with the tip of a knife. They are done when the juices run clear. Repeat with the remaining patties adding oil and butter as needed.
Note: Keep the top off the pot or they will get soggy.