---
Text and Community Forum for AFS 2011 in Bloomington, Indiana. "Peace, War, Folkore" Theme.

Featured book: Storytelling on the Northern Irish Border: Characters and Community (Indiana University Press, 2008) by Ray Cashman, Ohio State University

Moderators: Margaret Yocom and Polly Stewart

Forum Participants: Ray Cashman, Carl Lindahl, Margaret Mills

Order Storytelling on the Northern Irish Border at amazon.com, $29 new, $19 used

______________________________________
Introduction to Storytelling on the Northern Irish Border:

Ray Cashman's Storytelling on the Northern Irish Border: Characters and Community (Indiana, 2008) examines the "social work" of storytelling in an area of longtime conflict. This study discusses the telling of local character narratives as a community-based traditional practice that provides a counterweight to sectarian views and violent actions. His book has received the Chicago Folklore Prize from the American Folklore Society and the Donald Murphy Award from the American Conference for Irish Studies.

Ray Cashman is currently writing "Folklore as Personal Expression and Social Critique: Packy Jim, A Voice from the Irish Border."

See
http://english.osu.edu/people/person.cfm?ID=2488
_____________________________
From the Long Abstract proposal for Text and Community Forum at AFS 2011:

We propose to continue the "Text and Community" Forum that has occurred at ten previous American Folklore Society conferences.

We will offer conference attendees the opportunity to gather with folklore colleagues and discuss one main text, under the guidance of the author of the text, two discussants, and two co-moderators. Some of us in the Society, years away from graduate school, would like the chance again to sit with colleagues who share our vocational calling. Others of us who work as the only folklorist at an institution hunger for scholarly discussions of texts with folklore colleagues. Folklore graduate students would like the chance to discuss a text with folklorists from many different institutions. We want to restage this space where we have the chance to speak in detail about ideas that engage us.

Our primary aim is to encourage an intellectual discussion among a wide range of Society members (professionals at art commissions and museums, independent folklorists, university professors, etc.), and we have set up guidelines for choosing the text accordingly. Above all, we want a text with broad appeal. The main text could be from an area outside of folklore; if so, it will offer folklorists new perspectives on our scholarly endeavors. Or, the text could be a folklore text, either a new publication or an older text that we could talk about in new ways. Our text could be a book, an exhibit catalogue, a film, a CD, or another medium that the organizers choose. We may supplement the main text with a companion text and/or a contrastive reading. We invite scholars and, when possible, the author(s) of the book to be forum discussants.

This year, because of the conference "Peace, War, Folklore" theme, we have chosen Ray Cashman's Storytelling on the Northern Irish Border: Characters and Community (Indiana, 2008) that examines the "social work" of storytelling in an area of longtime conflict. This study discusses the telling of local character narratives as a community-based traditional practice that provides a counterweight to sectarian views and violent actions.

Before summer, one of our co-moderators will publish a page on her website that summarizes the reading and presents study questions. The co-moderators will tell Society members about our forum through electronic mail lists, including the AFS list. We encourage those planning to attend to read as much of the text as they can; people who have not read the book, however, are welcome.
At the Forum, we co-moderators will lay out our plans for the session, introduce our author and our discussant and facilitate the conversation. The author talks about his book, his fieldwork. Our discussants will speak for about seven minutes each. Most of the Forum will be group discussion. At the session's end, we will discuss ideas for next year's Forum. We have consistently chosen as our Forum text(s) materials that either develop the AFS Conference theme, or are written by one of the plenary speakers, or that address issues of interest to the region where the Conference is being held, or that are written by folklorists in that same region.

_______________________________________
Past Text and Community Forums
- 2009. Boise, Idaho. Teresa Jordan's Riding the White Horse Home (NY: Vintage, 1994). Discussants: Teresa Jordan, Darcy Holtgrave, David Stanley. Conference theme: "Examining the Ethics of Place."

– 2007.Quebec City, QC, Canada. Julie Cruikshank's Do Glaciers Listen?: Local Knowledge, Colonial Encounters, And Social Imagination (University of Washington Press, 2005). Discussants: Julie Cruikshank, Cristina Bacchilega, and Tom Mould. Conference theme: "Politics and Practices of Intangible Cultural Heritage."
– 2006. Milwaukee, WI. Henry Glassie's The Stars of Ballymenone (Indiana University Press, March 2006). Henry Glassie will be present, and Ray Cashman will introduce him. Discussants: Margaret Mills, Jo Radner, and Jack Santino. Conference theme: "Homelands and Diasporas."
– 2005. Atlanta, GA. Once Upon A Virus: AIDS Legends and Vernacular Risk Perception (Logan: Utah State University Press, 2004) by Diane Goldstein. Panelists: Diane Goldstein, Charles Briggs, and Cory Thorne. Co-sponsored by the Gay, Lesbian, Bisexual, Transgendered Section of AFS. Conference theme: "Folklore, Equal Access, and Social Justice."
– 2004. Salt Lake City, UT. Folklore and the Cultural Landscape. WILSON, William and HUFFORD, Mary (University of Pennsylvania). Reading Wallace Stegner, Mormon Country [1942], with an introduction by Richard W. Etulain (Nebraska 2003) and Yi-Fu Tuan, Escapism (Johns Hopkins, 1998).
– 2003. Albuquerque, NM. Chicana Traditions. CANTÚ, Norma E. (University of Texas, San Antonio); NÁJERA-RAMÍREZ, Olga (University of California, Santa Cruz); LUCERO, Helen (National Hispanic Cultural Center); ROMERO, Brenda M. (University of Colorado) Chicana Traditions: Continuity and Change (Urbana: University of Illinois Press, 2002)
– 2002. Rochester, NY. Vernacular Photography. KIRSHENBLATT-GIMBLETT, Barbara (New York University); BATCHEN, GEOFFREY. TEXT AND COMMUNITY. Kirshenblatt-Gimblett will present "Kodak Moments, Flashbulb Memories: Reflections on 9/11." Participants are asked to read Chapter 3 "Vernacular Photographies" of plenary speaker Geoffrey Batchen's Each Wild Idea and visit Lorie Novak's website Collected Visions (http://cvisions.cat.nyu.edu) that explores how photographs shape memories.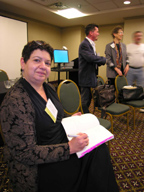 – 2001. Anchorage, AK. Collaborations among Native and non-Native scholars. DAUENHAUER, Nora (Independent Scholar); DAUENHAUER, Richard (Independent Scholar); MATHER, Elsie (Independent Scholar); MORROW, Phyllis (University of Alaska); TOELKEN, Barre (Utah State University). Discussion of Native American Oral Traditions: Collaboration and Interpretation, edited by
Larry Evers and Barre Toelken (USU, 2001) and Haa Tuwunaagu Yis, For Healing Our Spirits: Tlingit Oratory by Nora and Richard Dauenhauer (U WA, 1990).
– 1999. Nashville, TN. Heritage. KIRSHENBLATT-GIMBLETT, Barbara (New York University). Discussion of Barbara Kirshenblatt-Gimblett's 1998 Destination Culture: Tourism, Museums, and Heritage as well as a companion text (Karal Ann Marling, Graceland: Going Home With Elvis)
– 1998. Place. KIRSHENBLATT-GIMBLETT, Barbara (New York University). Discussion of Lucy Lippard's 1997 study The Lure of the Local: Senses of Place in a Multicentered Society.
(Photo credit for the cover of "The Stars of Ballymenone": Chris Meyer )