Dan Crowley Memorial Concert: An Evening of Readings and Storytelling: Call for Creative Writing
The Folklore and Creative Writing and the Storytelling sections of the American Folklore Society will co-host the Annual Daniel Crowley Concert, to be held during the 2006 Annual Meeting of AFS in Milwaukee, Wisconsin. The concert will most likely be held on Friday evening, October 20th, 2006. (Check AFS 2006 Meeting schedule when it comes on line).
For an evening of readings and storytelling, we seek submissions from folklorists who also engage in creative writing or storytelling. Written texts can be fiction, poetry, or creative nonfiction and should have an accurate reading time of five to seven minutes. Poets are invited to submit a selection of poems that work together as a group within that time frame. Storytellers are invited to present either original stories or original re-visions of traditional tales, and should submit either a story script or (if it's unscripted) a 150-word summary of their story. All presenters must observe the 5-7 minute time limit.

Submission guidelines:

1) Send 2 copies of your manuscript BY MAIL. NO EMAIL. IMPORTANT: Do not put your name on the manuscript.

2) Send a cover letter with your contact information (email and phone numbers), a 20 word bio, the title of your submission, and an accurate reading time for your manuscript.

MAIL to:
Lee-Ellen Marvin,
423 N. Albany Street
Ithaca NY 14850

DEADLINE for submission: July 12, 2006. (submissions must be received by that date)

Two jurors will read the blind submissions, and select between 15 to 19 presenters. Applicants will be informed of the results in early September. The concert will be a benefit performance to support the activities of the Creative Writing and the Storytelling sections. The project is contingent on being accepted by the AFS 2006 Program Committee.
___________________

Jury Process

Lee-Ellen Marvin will compile the submissions into a packet of readings that will be sent to the jurors. They will receive the submissions on August 1, 2006

Jurors will read the submissions and rank them in order of preference, returning those rankings to Lee-Ellen by August 22; Lee-Ellen will combine the rankings and return the new, combined rank list to you by August 25th. The two jurors will then approve or discuss and adjust the list for the final selection. Timings of the submissions will be combined to decide on the final program and a few (two or three) alternate or wait-listed presenters in the likely event that someone will have to cancel or decide to not participate.

Peggy Yocom and Lee-Ellen Marvin will decide on the order of the program, based on content and tone of the selected texts, aiming for a 90-100 minute program plus an intermission break.

Folklore and Creative Writing Section Meeting
Minutes of the 2006 Section Meeting
Creative Writing Workshop, AFS 2006
With Kirin Narayan and Joanne Mulcahy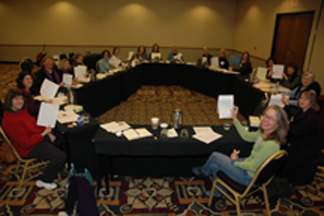 Photos by Peggy Yocom