Image Assignment Requirements
These images were modified for the class requirements to crop and resize a photograph, create a vignette, repair and colorize an image, and mat an engraving. Most of the images are connected through their association with the military and the post-World War Two period.
Crop, Resize, and Vignette a Photograph
This original image is that of Air Force Lieutenant Gail Halvorsen who participated as a pilot during the heady days of the Berlin Airlift, June 1948-May 1949. His popularity grew with his reputation as he launched hundreds of parachute packets laden with candy to the children of West Berlin. For his popular heroics he was dubbed the "Candy Bomber." I selected this now famous image to crop and resize, then to produce as a vignette. The photograph is the work of the USAF and is in the public domain, available through Wikimedia Commons.
First I cropped away most of the unnecessary clutter to the top, right and bottom of the photo. That allowed LT Halvorsen to become the central focus of the image, but it left just enough of the background to provide interest and context for the subject.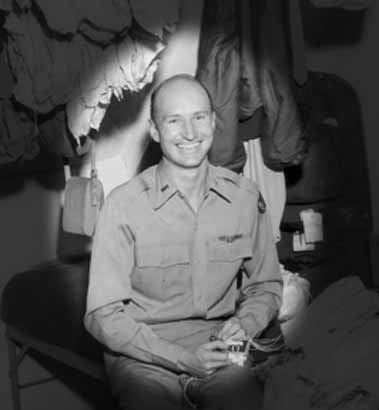 To create the vignette the Gradient Tool was used to lighten the center and darken the edges. Then the Elliptical Tool was used to select the portion of the photo to highlight. This was done to maintain LT Halvorsen as the central focus. Next Select Inverse was chosen to fill the edges around the elliptical. Color Fill Adjustment was selected as was New Layer Fill to dark the areas around the elliptical. The opacity was adjusted to approximately 80% to allow enough of the background to show through. Finally a Gaussian Blur Filter was applied to soften the edges of the elliptical.
Restore a Photograph
Colorize a Photograph
Mat an Engraving