Medicinal Plant: 1>
The Japanese Honeysuckle 1>
Caitlyn Scott
Table of Contents: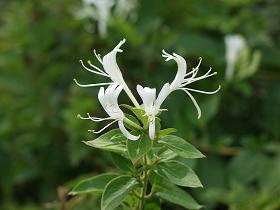 Throughout history, there have been many different types of plants used for many different purposes. One such purpose was for healing and medicinal uses. Over centuries of experiments and trials, certain plants have been found to have certain attributes that contribute to healing the body. Some plants help build immune systems, where others help fevers or cold sores. Another attribute is having antibiotic properties. There are many different plants, like the Japanese Honeysuckle, that help with resistance to certain bacteria. The Japanese Honeysuckle is a vine that has small tubular flowers that bloom in the summer. This unique vine has many different properties associated with it.
Return to Top
Japanese Honeysuckle is the common name one of the many different types of honeysuckle species. The Latin name for the Japanese Honeysuckle is Lonicera japonica. The Japanese Honeysuckle is a vine that grows in the spring and blooms in the spring and summer. This plant has yellow-orange or yellow-white tubular flowers, along with red or black berries [4]. This specific species of honeysuckle is native to East Asia, especially in Korea and Japan. The Chinese were the ones who determined the medicinal use for the Japanese Honeysuckle. The official Chinese name for this species is Jin Yin Hua, but there are many other common Chinese names, such as Ren Dong Hua, Jin Hua, Er Hua, and Shuang Hua [1]. According to the Invasive Plant Species Assessment Working Group, the Japanese Honeysuckle was brought to the United States for cosmetic reasons. It was brought over for as decoration, erosion control, and wildlife forage and cover [2]. It was first introduced on Long Island, New York in 1806. Since then, the beautiful Japanese Honeysuckle as spread to about twenty-nine states in the United States [3]. This honeysuckle cannot survive in the extreme cold temperatures of some of the northern states, but it is also cannot survive in some of the western states because of the lack of precipitation and draughts [2]. According to IPSAWG, Japanese Honeysuckle is the most common in Indiana and occurs in all of the counties. It is also especially aggressive in southern Indiana [2]. Some of the other states that the Japanese Honeysuckle inhibit are states like Texas, Florida, Minnesota, Maryland, Ohio, Pennsylvania, Vermont, North Carolina, Georgia, and New York. This plant thrives in warmer summer months.
Return to Top
There are numerous pharmacological effects of Japanese Honeysuckle. The Chinese used this honeysuckle in many different ways for many different cures. Traditionally, it was believed that it helped cure colds, fever, inflammation, swelling, boils, sores, and viral and bacterial infections [5]. Today, this honeysuckle is a proven antibiotic. It is a broad spectrum antibiotic for bacteria such as staphylococcus aureus, streptococcus B-hemolytic, Escherichia coli, vibrio cholera, salmonella typhi, diplococcus pneumoniae, diplococcus meningitidis, pseudomonas aerurginosa, mycobacterium tuberculosis, and bacillus dysenteriae [1]. Most of these bacteria cause serious illness in humans that can result in death. The Japanese Honeysuckle can also be used to cleanse the digestive tract. "It is considered a mild laxative that gently promotes bowel movements, as well as a diuretic that promotes urine flow" [6]. By promoting these movements within the body, they body is extracting the toxins and harmful build up that occurs in the digestive tract. It also helps increase sweating and perspiration. In doing this, it helps the body remove toxins and gases that building up as well throughout the body through the skin [6]. Another benefit from Honeysuckles inducing perspiration is that it helps lower fevers by cooling the body and expelling the heat. Honeysuckles are also used as an antioxidant. Antioxidants are any substance that reduces oxidative damage [7]. In other words, it repairs the damage done from oxygen to cells. It is also said that Japanese Honeysuckles can have a contraceptive affect and decreases pregnancy rate by having anti-implantation activity [1]. Japanese Honeysuckles are used for many different things for their many different parts. The stem is used frequently for most of the uses listed above. The flowers and leaves are also used for some remedies as well. Some opinions vary for which is the most effective way to prepare each plant part. In ways of adverse affects, the only ones for Japanese honeysuckle would be ingesting too much. If large doses of honeysuckle are ingested, it can cause sickness. It is a cleanser of the digestive tract, so if too much is ingested, a person can get very ill and dehydrated from it. 3>
Return to Top



Chlorogenic acid appears to be the main effective agent in the Japanese Honeysuckle. This agent is mainly found in the stem of the Japanese Honeysuckle vine. By definition, this acid is "a naturally occurring phenolic acid which is a carcinogenic inhibitor" [8]. In honeysuckles, the concentration of this acid can range from 0.5% to 7% [9]. This acid is one of the main agents that help give the honeysuckle its antibiotic affects. Typically this agent is administered orally or topically. There are various methods of preparing the plant to be taken orally or topically.

Chlorogenic Acid is not the only effective agent however in Japanese Honeysuckles. Luteolin is another effective agent found in the plant. This agent is known for acting as an antioxidant, radical scavenger, an anti-inflammatory, carbohydrate metabolism promoter, and an immunity system modulator [10]. Luteolin is also known for its antibiotic properties along with another agent, isochlorogenic acid [1]. There are other effective agents that help make up the immense properties of the Japanese Honeysuckle, however, Chlorogenic acid, isochlorogenic acid, and Luteolin are the most abundant and more effective in the plant.

Return to Top4>


Chlorogenic Acid:
Names:
Cyclohexanecarboxylic acid, 3-((3-(3,4-hihydroxyphenyl)-1-oxo-2-propenyl)oxy)-1,4,5-trihydroxy, (1S-(1alpha, 3beta, 4alpha, 5alpha) [8].




Luteolin:
Names:
3,4,5,7-Tetrahydroxyflavone; 5,7,3,4-Tertahydroxyflavone; 2-(3,4-sihidroxifenil)-5,7-dihidroxi-4-benzopirona (Spanish); 2-(3,4-hihydroxyphenyl)-5,7-dihydroxy-4-2; Luteolol [10].


3>
Return to Top
| | |
| --- | --- |
| | |
| 2 Dimensional Structure of Chlorogenic acid | 3 Dimensional Structure of Chlorogenic acid |
| copyright © Caitlyn Scott | copyright © Caitlyn Scott |
Chlorogenic acid has been isolated, by using scientific technique, from the Lonicera japonica. However it is rather difficult to isolate this specific component because there are multiple other components very similar to it within the same plant. Some of the other components in honeysuckle that are similar to Chlorogenic acid are caffeic acid, gallic acid, protocatechuic acid and vanillic acid, which all have similar functional groups [13]. The typical scientific approach for isolation this compound is to use chromatography. However, this process has proven to be time consuming and unable to produce high quantities of the substance [13]. Clearly, this way is not efficient enough. A new way has emerged however. The technique of using a pH-related Counter-Current Chromatography process demonstrated a more efficient and less time consuming method. This method only takes about 180 minutes [13]. It also obtained "over 98% purity" [13]. This method is the only method that has obtained a decent about amount of sample and obtained excellent purity. This method also is better than the conventional Chromatography techniques because it can handle a "large sample capacity, high concentration of eluted fractions, and enrichment and detection of minor components present in a large quantity of the crude sample" [13]. The Counter-Current Chromatography (CCC) is similar to previous models of chromatography, except that it is vertical. It also exploits specific natural forces. "It not only utilizes a centrifugal force generated from both rotational and synchronous planetary motion of coiled columns containing two immiscible liquid phases, but it also uses the orthogonal gravitational force, which will benefit to improve the efficiency of CCC separation" [13]. This method also extracts the compound from the flowers and the buds of Lonicera japonica. Scientists have experience with extracting Chlorogenic acid from other plants and fruits, however, thus far there is not a more efficient method for extracting it from Lonicera japonica.


Another active compound in Lonicera japonica

| | |
| --- | --- |
| | |
| 2 Dimensional Structure of Luteolin | 3 Dimensional Structure of Luteolin |
| copyright © Caitlyn Scott | copyright © Caitlyn Scott |
Chlorogenic acid has been isolated from its native plant Lonicera japonica with multiple procedures. However, most of them are inefficient and time consuming. In the laboratory, Chlorogenic acid has been synthesized in a much more efficient fashion. The method that is used is referred to as molecularly imprinted polymers (MIP) [14]. In other words, "molecularly imprinting is a technique used for preparing polymer by arranging functional monomers around a template compound and by fixing it with cross-linker in solution" [14]. These consist of methods like "chromatographic separation media for pharmaceutical analysis and environmental detection, and even as a new material in solid-phase extraction (SPE) for enriching bioactive compounds and chiral medicinal molecule of interest by the selectively re-binding of the polymer to analytes" [14]. These methods can effectively synthesize pure Chlorogenic acid. These technique is superior to others because its capable of molecular recognition, it is easy to prepare, and it has a high tolerance to harsh environmental conditions, such as high temperature, pressure, acids, bases, and organic solvents [14]. Having this technique to work with is extremely helpful to synthesizing any compound, especially Chlorogenic acid. Studies have been performed on the molecular structure of Chlorogenic acid and the impurities that coexist with it. It has been determined that the "shape" of the molecules between the Chlorogenic acid and the impurities has extremely different [14]. This is of high importance when trying to separate the two and synthesize Chlorogenic acid. The actual synthesis and separation process was quite simple. "The separation was carried out using an on-line style chromatography system. Prior to each injection, the MIP monolith column was equilibrated with mobile phase" [14]. A model sample was then injected into the chromatography system [14]. The Chlorogenic acid was then dried by evaporation and collected. Over all, the Chlorogenic acid was eluted out of the system in the time range of ten to twenty-five minutes [14]. Clearly, this method of synthesizing Chlorogenic acid is effective and efficient, which is more than the traditional ways of isolation and extracting from the plant itself.
Chlorogenic Acid [12]

Luteolin [11]

Synonyms:

3-[[3-(3,4-Dihydroxyphenyl)-1-oxy-2-propenyl]
oxy] 1,4,5-trihydroxycyclohexanecarboxylic
acid; Chlorogate.

2-(3,4-Dihydroxyphenyl)-5,7-dihydrocy-4H-1-benxopyran-4-one

Molecular Formula

C16H18O9

C15H10O6

Molecular Weight

354.3128

286.236

CAS Registration Number

327-97-9

491-70-3

Melting Point

207-209°C

329°C

Density

1.28 g/cm3

Solubility

In water and in ethanol
©Caitlyn Scott 20086>